With a Swift Taxis business account, you can provide your personnel with efficient transportation services.
A business account with Swift Taxis offers cost management through thorough billing and expense tracking, as well as ensuring a credible image for your business.
Create a business account
We have a wide range
of travel options
What we can do for you
Our efficient and dependable transportation services guarantee the prompt arrival of your clients and employees.
Reservations with us can be made fast and conveniently through a simple dedicated booking process.
Our booking process allows you to effectively control transportation expenditures and stay within budget through detailed billing and expense tracking.
We offer a high-quality service that projects a positive image for your business.
We provide a variety of vehicles to suit your business's needs, including cars, minivans, and executive vehicles.
Finally we provide drivers with years of experience and solid training, who are familiar with the area and dedicated to safety and comfort.
Swift Taxis in Great Yarmouth has served the community with dependable and efficient transportation services for over 30 years, earning a solid reputation as one of the most reputable taxi services in the area.
What makes our service special
Many passengers place a high value on punctuality, and Swift Taxis is well renowned for being dependable.
Swift Taxis employs state-of-the-art technology to efficiently and conveniently manage bookings and dispatch vehicles.
Swift Taxis is committed to offering the highest level of customer service each and every time.
Keeping your business green
We take pride in making your taxi ride as safe and enjoyable as possible. We also use the most fuel-efficient diesel, 100% electric, and hybrid engines in our taxis, private hire cars, minibuses, and coaches, and we have a fleet of over 100 sub-100gm co2 vehicles.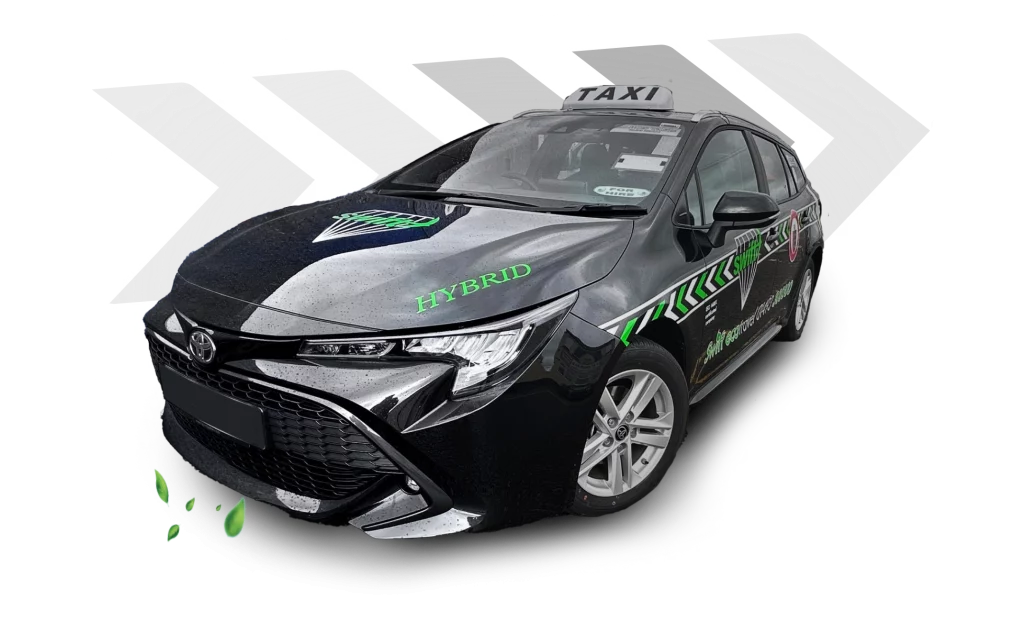 TESTIMONIALS
More than 20k people
have used our services
Peter Jones
Very helpful, prompt, and professional. Paul 83, my driver, was extremely helpful and pleasant, and I can't recommend him highly enough. All in all, a big 'thank you' to Swift for their help and service. I'd definitely use Swift again if I'm in Great Yarmouth.
Eric Graham
We stayed in the Wild Duck start of September and needed a taxi to take us into and back from Gt Yarmouth. Swift were recommended by staff and we can say that the drivers were prompt, friendly and helpful – great service.
Amy Murphy
Super helpful, provided a big taxi at late notice to take us and all our luggage to the train station. Everyone was so kind and our driver Jamie was lovely. Would highly recommend.
Andrew
I work abroad and I find that Lenny has always been flexible with date and time changes, he always puts the customers comfort and safety first and will help you in any way he can. Excellent service!
Fay Leathem-clark
Great experience and a great driver very nice and helpful arrived when they said they would and got us to our point safely 😊
–
Create a business account